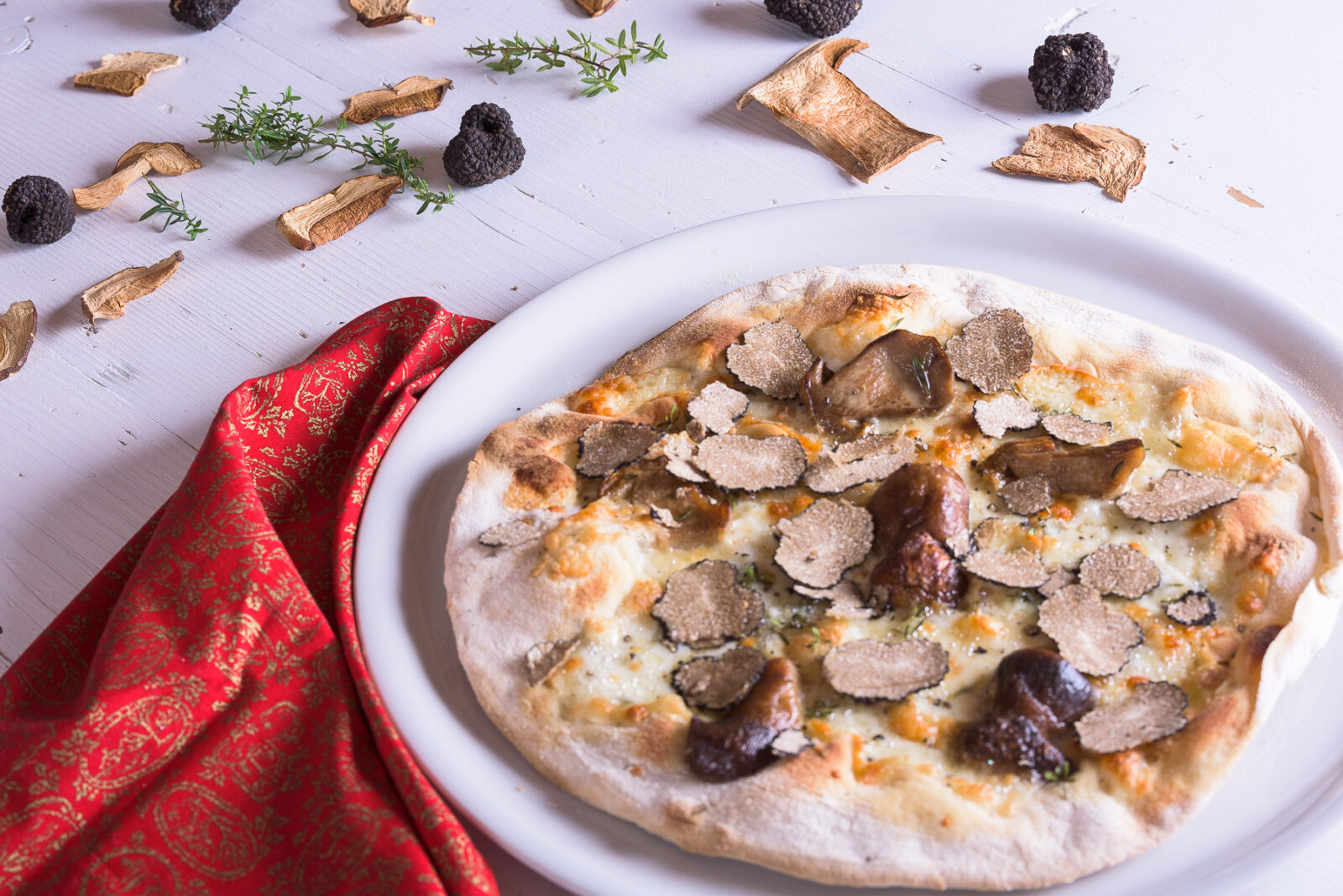 Ingredienti
75 gr di Mozzarella di Bufala DOP tagliata a cubetti da ½ cm
50 gr. di porcini freschi tagliati a fettine di 3 mm o 10 gr. di Porcini Secchi ravvivati per 10 minuti in latte caldo e poi scolati accuratamente.
25 gr. di tartufo nero estivo fresco o conservati a scaglie
Rametto di timo fresco con foglie rimosse
Difficoltà moderata
Tempo di preparazione 45 minuti + 2 ore e mezza di lievitazione
Tempo di cottura 15 minuti
Tempo totale 3 ore e ½
1 Porzione
Impasto per pizza
Per 2 pizze (30 cm)
300 ml di acqua (temperatura ambiente)
500 g di farina (300 g di farina 00 e 200 gr. di farina di manitoba se possibile) altrimenti 500 gr. della 00
35 gr. di olio extra vergine di oliva
10 gr. di sale
5 gr. di lievito sciolto e mescolato in un bicchiere con 2 cucchiaini di acqua
Posizionare la farina in una ciotola, fare un pozzo al centro ed aggiungere il lievito. Aggiungete lentamente l'acqua alla farina mentre mescolate manualmente o con un robot da cucina. Aggiungere il sale e continuare ad impastare lentamente mentre si aggiunge il resto dell'acqua. Continuando sempre a mescolare aggiungere lentamente anche l'olio, circa 10 gr per volta. Quando si vede che l'impasto è liscio e lucido, dargli la forma di una palla. Metterla nella ciotola, coprire con un involucro di plastica e lasciar lievitare in un luogo caldo (25 ° C – ad esempio in un forno preriscaldato) per 2 Ore o fino a che l'impasto non sia raddoppiato di volume.
Rimuovere l'impasto e dividerlo in 2 parti. Lavorate le singole porzioni di impasto e formare 2 sfere. Posizionare le sfere su una superficie liscia e leggermente infarinata. Spolverizzare le sommità della pasta con della farina e lasciare riposare per altri 30 minuti coperta da un canovaccio da cucina. Trascorso il tempo stendiamo con le dita la pasta su una superficie leggermente infarinata dando la forma di un disco rotondo di circa 30 cm di diametro.
Stendere l'impasto su una teglia per pizza. Ricoprirlo uniformemente di porcini e mozzarella. Cuocere in forno preriscaldato per circa 15 minuti a 200°C.
Togliere dal forno, guarnire con i tartufi a lamelle ed una spolverata di timo. Affetta e gustala calda fumante
Place the extended dough onto a pizza pan and evenly distribute the Porcini and Mozzarella. Bake in a preheated oven for approximately 15 minutes at 200°C.
Remove from the oven, garnish with the shaved truffles and a sprinkle of thyme. Slice and enjoy steaming hot.
Pizza Dough
For 2 pizzas (30 cm)
300 ml water (room temperature)
500 gm flour (300gm flour 00 and 200 gm flour manitoba if possible) if not 500 gm 00
35 gm extra virgin olive oil
10 gm salt
5 gm yeast dissolved and mixed in a glass with 2 tsps of water
 Place the flour(s) in a bowl, make a well and add the yeast. Slowly add ½ the water to the flour all the while mixing either by hand or with a food processor. Add the salt and continue slowly adding the remainder of the water whilst mixing. Continue mixing the flour and slowly add the oil 10 gms at a time. When you see that the flour mixture is smooth and shiny, form the mixture into a sphere and place back in the bowl and cover with plastic wrap and let rise in a warm place (25 °C -for example in a preheated oven) for 2 hours or until the dough has doubled in size.
Remove the dough and divide into 2 parts. Work the divided parts to form 2 spheres. Place the spheres on a smooth lightly floured surface. Sprinkle some flour over the top of the dough and let rest for 30 minutes covered with kitchen towel. Now let's extend the pasta-on a lightly floured surface extend the dough with your fingers and create a round disc 30 cm in diameter.