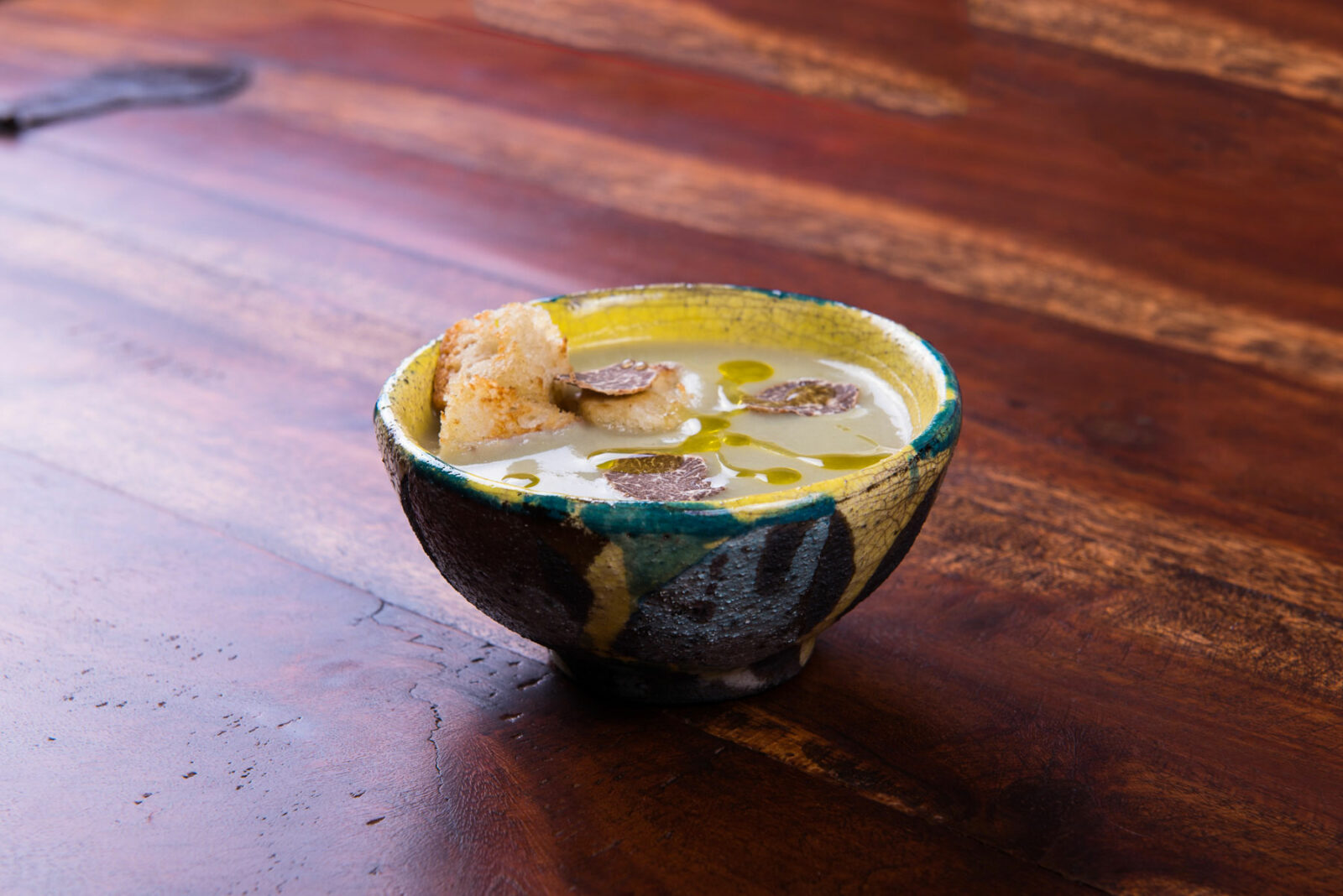 Ingredients
3 Tbsp extra-virgin olive oil or 2 tablespoons of unsalted butter
1 leek the white part only, finely chopped
1 clove garlic, minced
100 g freshly boiled artichoke hearts or 100 G thawed, frozen artichoke hearts
1 cup chicken or veggie stock
1/2 tsp salt
1/4 tsp freshly ground black pepper
50 g mascarpone cheese
60 g white fresh truffles if possible if not preserved truffles in brine
100 g toasted croutons (Italian crusty bread cut into small pieces)
50 g Grana Padano cheese (shaved)
White Truffle Oil
Serves 2
Total time 35 minutes
Preparation 15 minutes
Cooking time 20 minutes
Easy recipe
Gently heat olive oil or butter in a heavy, large pot over medium heat. Add the leeks and the garlic and stir. Cook for 2 minutes, stirring often. Add 30 g shaved White Truffles and stir often for 1 minute over low heat. Add the artichokes, stock, salt, and pepper and cook until the artichokes are tender, about 15 minutes. Meanwhile, cut the bread into cube size pieces, toss in a a bowl a 1 Tbsp of extra virgin olive oil with a pinch of salt and toast in the oven turning frequently at 180 degrees until golden brown.
When the soup is ready, combine in a blender or handheld immersion blender and puree the soup while slowly adding the mascarpone to create a velvety texture.
Drizzle a few drops of White Truffle Oil over the croutons and toss in a bowl.
Serve in warmed bowls, garnish with the remaining shaved truffles, Grana Padano and croutons.